International Permanent Makeup Master, Phi Brows Artist, and a multi-awarded Professional Trainer based in the UK. She has been trained and licensed by the best academy in the world, the prestigious "Phi Brows Academy". She owns the luxurious brand of "Kate Tiu Secret of Beauty cosmetics", which provides high-quality, organic and natural products. The quality of the ingredients is second to none and in turn the potency and their products' effectiveness. Since childhood she's been passionate for art and in 2003 established a makeup school, and began her career as a professional PMU artist. In 2018, Kate founded the Kate Tiu Beauty Academy where she runs the PMU training accredited by ABT. The Academy was born out of her passion for the craft and entrepreneurial approach to the business. She spent 18+ years working in the beauty sector, which provided wealth of knowledge and experience that willingly is shared with her students.
She regularly participates in training, symposia, and congresses of permanent makeup around the world. Kate believes that there is always something new to learn and space to master the skills one already has. At the Academy, with her industry-leading training course, she specialises in creating happy, confident, professional semi-permanent makeup technicians. Post-training support and mentoring are at her heart, and she's committed to providing the best possible training to her students and their business.
"My commitment is to improve the quality of life for people by helping them to attain better career life. I love to empower, strengthen and unite women to be inspired, to connect in a safe space, where creativity, learning, life experiences, passion for the causes we care about can join us with one purpose and have the ability to serve each other".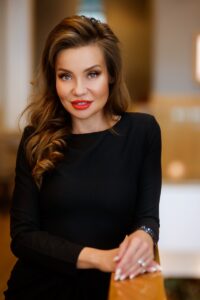 Her mission is her student's success, and as a mother, wife and businesswoman she firmly believes that every woman deserves to be empowered, hence why she is so passionate about what she does.
KATE TIU
www.katetiubeauty.com
Facebook: kate.tiu.brows
Instagram: katetiusecretofbeauty