Director and creator of the company "Anita Gierczyk – Personal Style Director & Image Consultant". Self-presentation and professional dress code are issues that she's been dealing with for many years. The owner of the psychotherapy consultation office "Coaching and positive psychotherapy" helps people to gain confidence in themselves by strengthening their self-esteem and resistance to stress. Psychotherapy improves the quality of life, overcomes negative thoughts, and helps with getting on with life. As we dive deeper into the theories, different approaches to personality, human development, and cultural affect to our behaviour, we are forced to look at our own lives and those around us. Anita is the winner of Woman in the World 2019 plebiscite organized in London, where she has been awarded under the title of Personal Stylist of the year 2019 and Top Polish brand 2020 that was promoting enterprising and creative Polish women.
She also gave an interview for the book "Usual, Extraordinary. Business stories of successful people and Polish brands". Apart from the above she also received an award at the Smart Choice Academy in London. She combines passion, that fulfils her dreams and achieves professional success on a global scale. She's got several certificates in the field of make-up and styling, and a Diploma of Certified Consultant of Positive Psychotherapy. Beside this she also took training courses in the field of therapy, coaching and psychology. As a strong believer in justice in the world, Anita is now studying law at London University.
"We women have strength, courage, and dreams worth fighting for".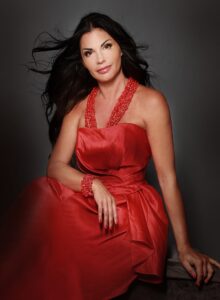 She wants to share her knowledge and help to other women who will face difficulties and injustice in life. Anita wants every woman to believe in the power they have and most importantly to know that the smartest, or the most beautiful don't win in life, but those who decide to win, will be the winners. Anita's future? Her plans include publishing an authorship of Believe in Yourself book.
ANITA GIERCZYK
Personal Style Director & Image Consultant
www.anitagierczyk.com
ANITA GIERCZYK
Coaching and psychotherapy online
www.coaching.anitagierczyk.com