Open, talkative and ambitious owner of the Odnova beauty salon. She made her passion a way of life. Her skills are confirmed by numerous schools and trainings in the field of cosmetics. Demanding towards herself and others. She makes sure that both, the salon and all the services provided in it are always at the highest level. She attaches great importance to relations with clients and an individual approach to each of them. She loves to draw good energy from other people and repay the same. Cosmetology is her passion. A field where she feels like a fish in water. She believes that the measure of the quality of services performed by cosmetologists is their effectiveness. In her work, she loves the moment when a smile appears on her face caused by the effect, when someone will feel better "in their skin" or get rid of complexes related to their appearance. It gives her great satisfaction and gives her great strength. She makes every effort to ensure the best results of treatments, relaxation and well-being to every person who visits her.
She believes that beauty knows no age, and the female body is a temple for the soul that shines when we take care of it properly. Eight years of experience in the beauty industry, the use of the latest technologies and the acquisition of unique knowledge, allows her to achieve care and therapeutic effects of the highest quality.
"It may happen that you were born without wings, but the most important thing is that you do not prevent them from growing".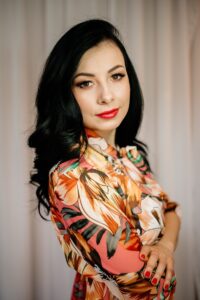 Daniela created the salon to help women regain faith in themselves, their abilities, by acquiring a new image, gaining a new look and new, better, slimmer shape. She likes to share knowledge and is planning to open a cosmetics training center in the future.
ODNOVA
Facebook: Gabinet-Odnowy-Biologicznej
Phone: +48 501 943 311
Address: Ul. Mickiewicza 18,
11–500 Giżycko