FCIM, creative director of DM2Agency and co-founder of BiznesMama Network understands the challenges of succeeding in man's world. In a career spanning 20 years, Dorota has worked with clients such as VISA, Santander, GSK, British American Tobacco, Cadbury Wedel both in the UK and Poland. Fascinated by effective communication and as a Fellow of the Chartered Institute of Marketing, she implements knowledge from neurolinguistics, behaviourism and neuromarketing to create a strategy for her clients. The future focus for the business is on video marketing as the strongest medium of our time.
Dorota has three children and has an array of daring hobbies which, she says, make great metaphors for her approach to business. As a mother, she's attached to her kids and shares with them hobbies that include scuba diving, skydiving and skiing.
She extracts knowledge about business from nature. She trusts that one should never prejudge or believe in stereotypes – taking swimming with bull sharks in Fiji as an example, where the female shark is bigger and stronger compared to males and she sees this natural fact translated in Female-leaders in business. Free falling at 4200 m high at 220 km/h taught Dorota to always follow her vision. She lives by this thought and is crazy enough to see it through to the end.
"Life writes the best scripts!".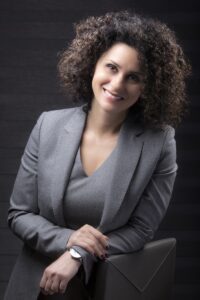 Her advice to women in business is for them to remember the truth about the natural divinity of women. She would like women not to forcefully follow male role models and likes to remind men about it too, encourage men to stand down from their pedestal to free up space for the enormous potential that is around them, that will pay off for both sides.
DOROTA IWANKIEWICZ
LinkedIn:
dorotamonikaiwankiewicz
E-mail: dorota@dm2agency.co.uk