Dubai – the largest city in the United Arab Emirates located at the south of the Persian Gulf. The density of agglomeration started only 20 years ago. The most astonishing place in the world. You will find the tallest skyscraper (Burj Khalifa with a total height of 828 meters), the highest hotels, underwater hotel, the largest shopping mall, many artificial islands, and other incredible buildings. The list goes on. The oil deposits located there made Dubai the dearest location in the world. It is a place where Arab traditions intertwine with a modern mix of world cultures. The capital of luxury and unlimited imagination.
And how do women live in such an unusual place on earth?
From many sources, we learn that women in Arab culture do not have as much freedom as average European women. Our fantasy about life in Arab country, especially from a female point of view is the same. It seems that women are a property of men and that they have very little freedom. So, what's it really like? We asked few women that either lived in Dubai since their birth or emigrated there a few years ago to fulfill their "Dubai Dream".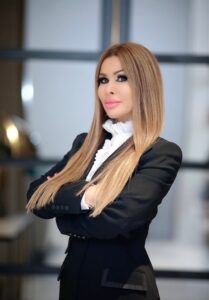 Lara Tabet is a Brand Ambassador, Middle East Luxury Business Developer Official Spokeswoman – Arab Fashion Council, TV presenter and Philanthropist. She was born in Dubai and has Lebanese roots. – Dubai is the land of opportunities and the equality between men and women, despite the fact that it is part of the Middle East, it's very much present. Women are highly respected in the region and given equal opportunities as men if they choose to take them. The UAE has several female ministers in key roles that are influencing the future of the country. There are women CEO's and heads of government bodies.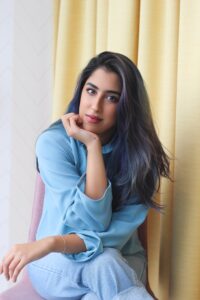 Yara Bin Shakar is a young, very creative Emirati Fashion designer. She was born in Dubai and very kindly told us about daily women life. – Yes, of course, being from the UAE we hear a lot of misconceptions about how others think we live. However, we live a very normal day to day life, we can go out alone of course, hang out with the Girls and go to a coffee shop. I can't speak for everyone of course, but most of us are very independent. The club culture is not really a part of our culture but at the same time you do have your individual freedom, however personally I have never been to one. I come from a family of very strong, independent women and my father as well as my uncles have always been very supportive and encouraged us – girls to study, to have a career and be very independent. In the UAE we are encouraged to be strong women, be heard and be a part of something bigger. We are not oppressed at all or pressured. We definitely have every right to go out alone, to work, to enjoy our lives. Never a dull moment living in Dubai, it's a lot of fun and the list of places you can visit and see just goes on and on.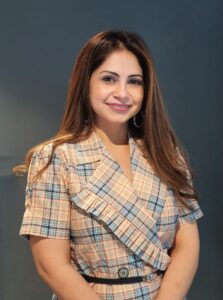 Renu Manjunath is an owner of jewelry brand Label RM. Was born in Mumbai and lives in Dubai for the past 24 years. – 10 years ago, there weren't many female entrepreneurs due to barriers and challenges including self-confidence. Women did not feel comfortable to leave their homes alone and venture into their own business. They did not have access to information on how to start their own business but most importantly there was not enough access to financial capital, which is the key if you want to set up a business. However, in the recent times UAE has welcomed and managed to initiate Specialised packages, such as the Dubai Business Women Council (DBWC). This is a scheme for women-led business enterprises available in free zones across the UAE and provides unique opportunities for women entrepreneurs. For both Emirati and expat women – if you have the drive, vision and ambition, you will be rewarded based on your skills and encouraged along the way with a great deal of support from the government and business – organization level that will further strengthen you on your road to success.
Career in Dubai
Certainly, Dubai is one of the fastest developing cities. Many companies want to have their headquarters here in the financial center of the world. Variety of industries from all around the world provide enormous possibilities to grow your organization, connect with new contacts and expand. Many women in Dubai have outstanding career and live their dream. Few years ago, Tara became one of them and received an excellent proposal. Today she's one of the most well-known persons in Dubai. Tara, please share you story. How did it all begin?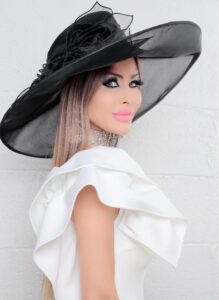 – My TV career started in 2003, when I received a phone call for the first English language station that was setting up in the region called InTV and they were looking for a TV presenter. My immediate response to them was that I had never studied journalism or communications. I was a hotelier by profession. They asked me to come in for a casting and then make my decision. I consulted with my husband who was supportive and so I went in for the casting. A few years later, I had several shows of my own that I was presenting and, in some cases, producing as well. I hosted and presented one of the most popular shows in the region called Societe where I conducted 7,000 interviews with celebrities from all around the world. I interviewed George Clooney, Morgan Freeman, Sharon Stone, Laurence Fishburn, Enqirue Iglesias, Jennifer Lopez, Amatabh Bacchan, Aishwairia Rai, Akbaar Khan, Anupam Kheir, Rekha, Sharukh Khan, Salman Khan, Yash Chopra, Feruz Khan, The Donald Trump family, Different rulers of countries and prime ministers, The King of Bahrain, the Manchester United, Football team, Bayern Munich, Inter Milan just to name a few. I also had my show 'Through the Key Hole' where I interviewed successful entrepreneurs and business men form the region. I had the Realty show where I interviewed leading property developers as well as the Hotel Show where I interviewed Hotel owners from the region. I had Articulture where I featured Art galleries. I co-hosted a daily live show called City Women with two other ladies which was very similar to 'The View' form Barbara Walters. – In 2010 I set up brand Luxurywithlara. I host different brands under my umbrella, such as Margys Monte Carlo, the world's most luxurious skincare, Michael Bruggler watches form Switzerland, Valeur Absolue fragrances form France, Esmeralda luxury real estate, Dany by Daniel K, Saba Diamonds, Diams Jewelry form Swtizerland, Nescens Skin Care. The role of Brand Ambassador is not only being the face of the brand, but also doing business development for the brand and helping them achieve the goals and targets that they set themselves.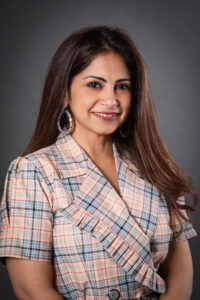 Renu, who is a business owner for the past 6 years. "It's true that I have achieved a lot in a short span, but I also believe in giving back to the community and ensure that my business is a positive impact to the community." – Discovering a passion, while being a homemaker, I decided to re-write my destiny and listen to my inner voice compelling me to return to my roots. My fascination for jewelry started from a young age. My grandmother used to tell me stories where she adorned a different piece of jewellery each day of the week. I longed to own them all one day. Little did I know then that one day I would not only own, but also create a brand of jewellery. My vision was to create a line of affordable bespoke jewellery with a glamorous aesthetic. And thus, Label RM was born. My father Jagannath Kamra is a successful entrepreneur in Mumbai while my mother Indu Kamra is a strong compassionate woman. I have inherited strong will power, perseverance and the right attitude to run a business from my father and the nobility and the power of compassion from my mother."
What values are important in UAE, what we need to know before visit the UAE?
– Emirati people are very warm and hold onto their traditions very strongly. So, we need to respect their culture and values. Though men are the head of the family, they respect women a lot and even today many men rises when a woman enters a room. Family comes first and is a priority for the locals. Enquiring about one's family is usually the norm to break the ice. Warm handshakes are the order of the day between men; however, one must refrain from shaking hands with a woman unless she leads the way. Generosity is a way of life. Hospitality is of the highest quality. The host would offer a tea / coffee for a casual meeting along with refreshments for longer gatherings – said Renu.
The youngest city in the world with the greatest opportunities
The city is very young, it is merely 20 years old and only over these 2 decades, it became a famous, most incredible and most developed city in the world. Lara witnessed how this city has grown. Is there anything else that surprised you in it?
– Dubai is an incredible city and it has grown increncredibly thanks to the vision of its leaders and especially, His Highness Sheikh Mohamed the Ruler of Dubai. Dubai has over 220 nationalities residing in peace, security and harmony. Even during the Corona Virus, Dubai has shown its leadership in the way it has managed the crisis and supported the people of all nationalities. Dubai is going to continue to have a great future.
– We have watched Dubai grow over the past 30 years. Dubai has rapidly evolved from a quiet fishing village to one of the most prominent cosmopolitan cities in the world, boasting of various architectural marvels and man–made islands. According to a report completed in 2019 on the World's best cities, Dubai with its natural and built environment, strong online recommendation and good quality of life, has been rated among the World's Top 10 Best Cities to live in. The city is home to some of the world's most spectacular architecture, a top 10 global financial centers, one of regions most diversified economies, over 200 private schools, world–class lifestyle and amenities, and all within a tax-free environment. These factors are helping draw in expats from all over the world. The offer of a global business hub, combined with an almost unparalleled lifestyle has attracted millions to relocate from all corners of the world. Two–thirds of the world within eight hours flight. As the city continue to develop in line with the leadership's plans, we envisage that Dubai will retain its position at the top of future rankings. – said Mariam Shaikh.
University in UAE?
Education in UAE is very important. Everyone, men and women are free to study where they want. You can obtain education in every college around the world and get a profession of your dreams. Also, there are no obstacles to study at universities in Dubai. Mariam Shaikh, founder, Director of MS Education Consultants will tell us how to study in Dubai. Born in Mumbai
(India) Mariam arrived in Dubai 35 years ago.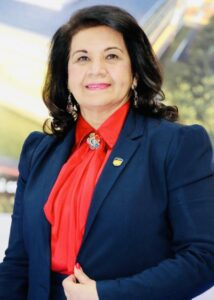 You created the biggest educational hub for international universities in Dubai, how do you help students?
– I was actively involved in the Student Marketing, Recruitment and Global Outreach for 3 major Universities in Dubai – Canadian University of Dubai, Heriot Watt University and Amity University. Throughout my journey, I have worked closely with students from over 100 different nationalities. By mentoring and empowering them I helped in their study choices, encouraging them to be entrepreneurs. They pursued their vision and worked hard to achieve their dreams. These people are our future leaders and working closely with them has been very fulfilling and provided me with immense satisfaction.
What are the tuition fees?
– Thousands of international students choose to pursue their education in this sunny and beautiful part of the world, where they can enjoy great weather and beaches, as well as various fun activities, such as desert safaris, kayaking, surfing, or sky diving. In terms of tuition fees for an undergraduate program ranges between 37,500 to 70,000 AED per year and a postgraduate program is between 55,000 to 75,000 AED per year. An extra 1,200 AED (330 USD) per month should generally be included as living expenses in addition to accommodation costs on/off Campus. Scholarships for international students are made available by the Dubai Government and the Universities in Dubai. The main criteria for getting a scholarship is to demonstrate exemplary academic achievements from high school. Students also have the option to take a study loan from their home countries or look for sponsors to fund his/ her education. Dubai Knowledge Park and Dubai International Academic City are home to higher education Institutions and hope that 2021 will provide Dubai's higher education as a hub for the future. With the opening of universities in these challenging times with more facilities that will help enrich a student's growth, it is anticipated that 2021 will be a great year for students, staff and universities. Universities like the University of Birmingham, Murdoch University, Heriot-Watt University and the University of Wollongong, have recently made changes to their campuses. The changes will help facilitate new features required students in order to ensure that all the educational services required are obtained. I would say that Dubai is the best place to study – I have seen it and I have experienced it over the past 35 years while having worked in senior leadership positions in 3 different leading International Universities and I have watched UAE grow to be the Education hub of the MENA region.
Fashion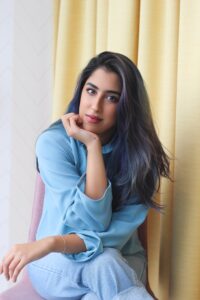 We wouldn't be us if we didn't ask about fashion and what women wear on daily basis. What can be seen on streets of Dubai? We know that Arabian women love to dress in a European style and really value designer clothes.
– The fashion in Dubai is extremely diverse. However, speaking from a perspective of an Emirati woman our daily wear is the abaya* and we generally dress very modest. In my eyes the abaya is such a feminine piece to wear and it comes in many styles. We are able to express ourselves not only by the style of our abaya but also what we wear underneath it, it can either be a daily casual look or a statement, you can wear it in so many ways and its very practical which is what I love the most about it. In Dubai you'll see abayas in all colours, styles and cuts. The possibilities are endless. – said Yara
*An abaya is an outer garment worn by women in some parts of the Middle East, particularly Saudi Arabia and the Arabian Gulf region. It is long-sleeved, floor-length, and traditionally black.
What were your thoughts about Dubai? Where there any surprises?
Mariam: We were newly married when my husband received an offer to join Kuwait Airways in the UAE. We were both truly excited as I had always fancied the idea of settling in a foreign country. We heard a lot of positive things about Dubai. The high salaries you could earn as well as being tax free. Although I was sad to leave my home and family, I looked forward to creating a new life and exploring new opportunities. Dubai is truly a very exciting city to live in which never ceases to amaze us.
Asli Musaffer: I thought it was fun and full of life. What surprised me the most is the continuous feeling of amusement, the blessing of a tolerant country that felt like home. Dubai is the world stage for multi talents and land of opportunities for all. You just need to find the right opportunity for yourself.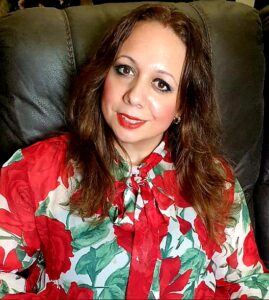 Asli Muzaffer, Lifestyle Wellness Coach. Asli was born in Turkey, lived in Dubai for 4 years. She also lived in Warsaw before going to Dubai.
Asli, you are a bit of a traveler! Few years back you lived in Warsaw. What differences are there between people in Poland and in the UAE?
I loved living in Warsaw, and I felt very welcomed and well encouraged. I keep Poland in my strongest prayers and this country retains a beautiful place in my heart. Dubai is the center of the world. Multiculturalism over here makes our daily life more colorful. The diversity of nations from around the world formed countries that are now towns and the world that is now a country. Dubai full of expats, provides amazing networking opportunities. You can always find and gather with like-minded women of all origins incl. your own origin. Many of the networking platforms are created by very dedicated people to make you feel like a queen of the world.
Asli, could you tell us a bit more about living costs in the UAE?
The UAE is worth the costs. When it comes to the entertainment, food and transport there are always reasonable alternatives. Housing is a little expensive, but as mentioned before, feeling safe and having great facilities and environment, is value for money. Integrity and reliability of Trusting the society – all of these factors made us call it our home far from home. – said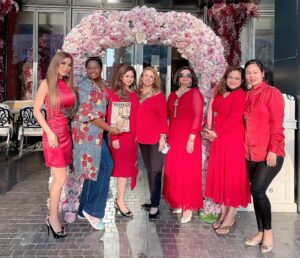 Business in UAE
Many people go to Dubai not only for the entertainment, but also to start a business and make a forever home. It is a tempting idea, as Dubai is tax free.
How do you become a business owner in UAE?
Now with the new rules and regulations in place, a foreigner can easily start a business in Dubai and many do so. Dubai actively welcomes investors and business owners from overseas. The emirate is home to many company formation experts and setup agents, created to help guide foreign entrepreneurs through the license, visa, and business incorporation processes. Dubai is home to entrepreneurs from every corner of the world. Year on year, increasing numbers of foreign investors and businesspeople flock to the emirate to take advantage of its prime business environment. As well as 0% tax rate, a strategic global location, and a simple incorporation procedure, Dubai now allows foreigners to own 100% of their business in most cases – a change that only came into effect in recent years. This, along with the introduction of long-term visas, has further secured Dubai's reputation as the perfect location for overseas entrepreneurs. While it does not have to be complicated, starting a business out here does require some local, expert knowledge. – explained Mariam
Types of business licenses in Dubai
There are several trade licenses types available in Dubai, the most common being commercial, industrial and professional. The types of businesses that fit into each license category are self-explanatory and will be determined by your business activity. If you are undertaking a commercial activity – such as buying and selling products or services – then in most cases, you'll need a commercial license. Once you've determined the type of license you require, you can make your application. UAE now allows 100% ownership of businesses for foreign nationals without the need for an Emirati Sponsor. This came into effect in December 2020. This will raise the competitiveness of the business environment in tune with the rapid economic changes as well as developments taking place in the global economy. It will also increase the country's attractiveness for expat investors, businesses and even start-ups. In addition to this, there are licenses available through the free zones of Sharjah, Ajman and Ras al Khaimah. As well as allowing you to take advantage of Dubai's 0% tax regime, free zone companies also benefit from customs tax exemption, a lack of currency restrictions, and the ability to repatriate all capital and profit. To make your free zone application, simply provide your company setup agent with some basic documentation and a few details about the business, and they will take care of the rest.
Prices in UAE: Depending on the area living costs start at around
– 45.000 AED per year.
– 20 bottles of water 10 AED
– Can of coke 3 AED
– Taxi starting cost 10 AED
– Public transport 5 to 10 AED
– Dinner in the causal restaurant around 100 AED per person
*1 AED = 0,19 GBP
Expo 2020 was originally scheduled to take place in 2020, but due to current world situation the organizers rescheduled the venue to 1st of October 2021 – 31st of March 2022. Dubai Expo 2020 is the first exhibition to be hosted in the Middle East. "Connection of minds" is the motto of the exhibit and the organizers anticipate unforgettable shows. Maybe this year you should go and check for yourself what business possibilities Dubai got up its sleeve?
www.expo2020dubai.com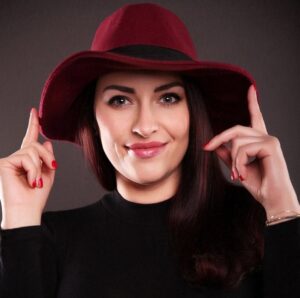 About the author:
Irmina Przybyłowska
Co-owner of the magazine, co-founder of Woman in
the World Awards plebiscite. A promoter of women's
awareness and development, and a travel enthusiast.
Fot. Ania Radomska Photography