5th edition of Toulouse Fashion week
The biggest fashion event in Occitania and the South will take place on Saturday 2nd and Sunday 3rd of October at the Pavillon République, in the courtyard of the Departmental Council, Boulevard de la Marquette.
Spectators are invited to discover a unique show in a setting reminiscent of Alice in Wonderland on the Wonderland theme: giant mushroom, oversized lollipops, oversized sugar canes, scary cemetery, luminous clouds, biting snake, all embellished with the evil. Who will welcome you on his white horse!
The show will feature the creations of 17 international designers from Toulouse, Paris, Poland, Niger, Algeria, Asia, Russia, and England. Numerous activities will also be organized with an art exhibition, dancers, singers, performers and circus artists … A unique show to be absolutely discovered!
Various personalities will be present for the occasion such as Hannah Friconnet Miss Midi-Pyrénées 2021, Jamsy semi-finalist of France with incredible talent or the musician Fabian Ordoñez, father of our Toulouse rappers Bigflo & Oli.
The Agnes Wuyam brand was also supported this time by the magazine for women "Woman in the World".
Special thanks to the friends and organizers of this event Fabrice Sauriat. Idelly makeup and Fabienne Cort.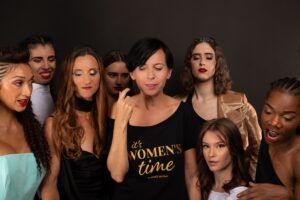 Photos: Daniel Mini, Philippe Milian, Antoine Raziel,
Matthieu Ramirez.
Collection: Agnès Wuyam,
Billberry by Agnès Wuyam
Media patreon: Woman in the World
Fashion editor: Agnes Wuyam