On the 25 and 26 of September 2021, during the Milan Fashion Week, the "Milan City Fashion Week" conducted by Walter Longo of Lombardiawebtv took place in the splendid location of Palazzo Barozzi. This year they have proposed a totally new format to offer brands the opportunity to interact with various figures in the fashion industry. The post fashion show, a real moment of sharing, allowed the stylists to enjoy dedicated meetings for product analysis and B2B distribution. The location, enriched by the magnificent works of Umberto Zive, Bruno Bani, Sara Arnaut, Paolo Pastorino, all of the Scuderia Chiccart Collection in support of the CDD project. Designers from all over the world participated presenting their collections.
Certainly, among the most appreciated Greta de Curtis for her originality and the elegance of her clothes, not least the Designer Elena Melyakina with her elegant collection for children that made her show a magical fairy tale. Guest of honor and godmother of the designer Greta de Curtis, Claudia Ruggeri, a well-known face of Italian television, who made her debut on the Milanese catwalks, enjoying great success as expected. Technical Sponsors: Event Agency B & 20, Lombardia Web TV, Miranda MakeUp, ReAir.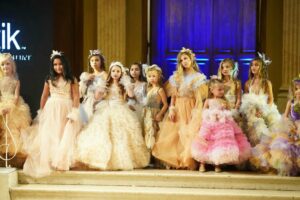 Agnes Wuyam – Fashion designer, Fashion Editor.