Real taste of Italian (food)
Speaking about food isn't easy. Especially if we're speaking of Italian cuisine and wine culture, there're many sayings coming from all over the world. Many people abroad see Italian culture embellished with pizza and pasta. As an Italian, and lover of gastronomy in its true sense, I affirm that every single dish has its story, an emotion, and people behind it, who, with commitment, creativity, and sacrifice, create combinations and incredible tastes with unique flavours.
In Italy, we're fascinated by food. In some cases we could say that we almost feel like we've got a real relationship with food, but not only that! Food is part of our day and we idolise it. In fact, we not only love the taste, but also to prepare, and to be guided by the flavours that the Mediterranean Climate provides us with. In short, Italians are very attached to their culinary traditions. They do not see it as a mere primary act to satisfy their palate, but as a moment of creativity and joy to be shared.
There is no certain evidence, but this affection has probably developed over the centuries. Many people from different cultures came to Dante's territory over the years. Each of them brought the best traditions, that later rooted in the local territory. Let's think about the famous Neapolitan cake "il Babà". It can be considered as a mix of three different cultures: French, Polish and Italian. The baba is a derivation of a sourdough cake from Poland (org from Polish: babka ponczowa). In fact, the creator of this work of art was Polish King Stanislaus Leszczyński, father-in-law of Louis XV, King of France. In its original form, the baba was softened with Tokaji – Hungarian wine. Later, a French confectioner replaced the Hungarian wine with rum.
What is your viewpoint and thoughts about food?
In Italy, we associate food with good memories spent with our loved ones. To be more specific, in great moments of togetherness with family and friends, a pizza, a plate of pasta or a good risotto is a must. As mentioned earlier, Italy isn't just pasta or pizza. An encyclopedia wouldn't have enough space if we started to talk about hundreds of pastas. Moreover, if a traveller was to travel through Italy from the North of the country to the South, he would find speciality in every place. The best-known specialities are: risotto alla milanese, parmigiano reggiano, mozzarella di bufala, the "caciucco" typical of Livorno, Lasagne bolognesi, or baccalà and peperoni cruschi. These are just a few of the thousands of recipes that can be found all over the Italian peninsula. In a nutshell, if you have never experienced this sensation, maybe you just need to get to know an Italian? He would be able to reminisce about his best memories that the dish has given him, but also talk about the passion of an entire population that is proud to pass on the culinary art in Italy, and around the world.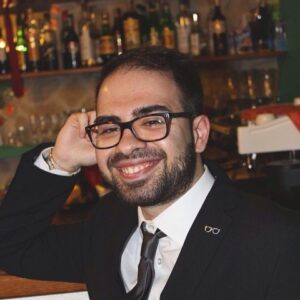 About author:
ARCANGELO
I am Italian. I am passionate about emotions in cooking
and travelling. I like to combine new flavours, new places , and new travels. I work for an e-commerce CibiLucani.it in which I create new sensory paths with words and flavors.
Through experience, I have learned to see different
horizons and I think that in the world we have no borders,
we are all united by love. The love that makes our being
wonderful and special.